What is Self-management Support?
Self-management support aims to increase a person's knowledge, confidence and skills when looking after their health. Self-management support is about helping people to
learn more about their condition
set goals, problem solve and make plans to live a healthier life.
Self-management support is not a one off but is an on-going part of the care of a long-term health condition.
There are many different types of self-management support. Some examples include:
Regular reviews by different members of your healthcare team
Information on your condition
Action plans, for use when symptoms get worse e.g. asthma action plan or COPD communication plan
Group-based Diabetes education. Examples include Discover Diabetes, DESMOND or CODE for people with Type 2 Diabetes. Berger or DAFNE for people with Type 1 Diabetes
Cardiac rehabilitation for people with heart conditions
Pulmonary rehabilitation for people with Asthma or COPD
Lifestyle change supports. Examples include stop smoking services or supports to increase physical activity levels
Support with dealing with the emotional aspects of long-term health conditions for example counselling
Support groups such as Cardiac Support Groups, Diabetes Support Groups and COPD support groups
Social Prescribing or Health and wellbeing community referral
Chronic Disease self-management programmes such as the HSE Living Well programme
The person with the condition is not going it alone but is a partner in their own healthcare. While the term puts emphasis on "self," effective self management is very much a team effort.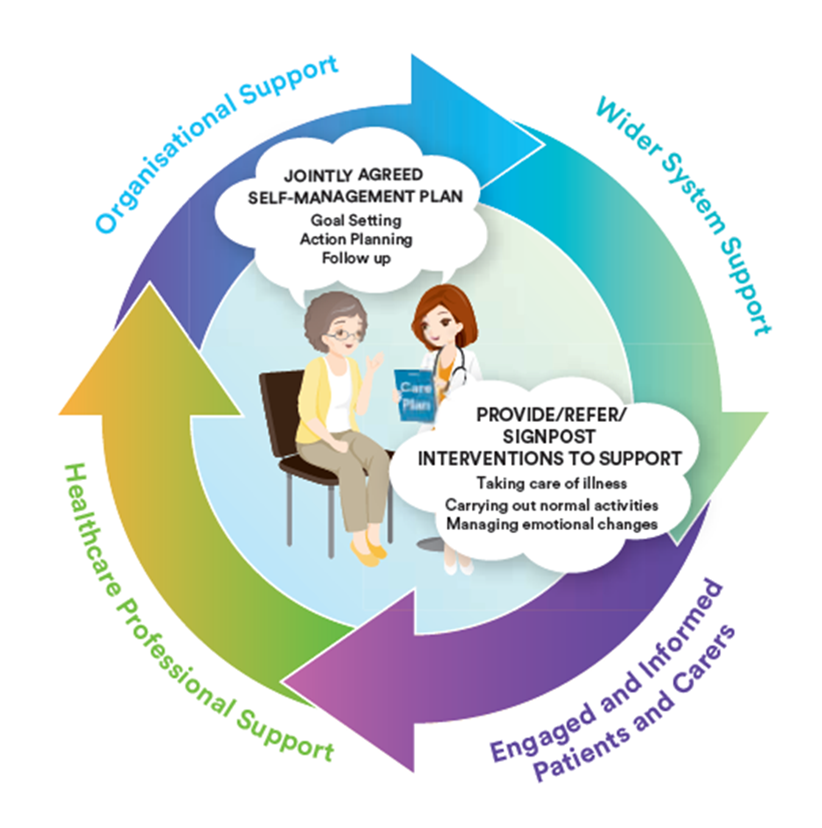 Health & Wellbeing, Cork-Kerry Community Healthcare, Health Service Executive, Model Business Park, Model Farm Road, Cork
Maeve Carmody, Self Management Support Coordinator for Long-term Health Conditions