Ballyheigue Family Resource Centre
Community referral involves supporting the health and wellbeing of people through spending time linking a person into local activities. I will meet participants and we will explore and discuss activities that interest them and identify groups or clubs they feel they could benefit from being part of. These activities can range from exercise, sport and art to book clubs and gardening. We could also discuss setting up new groups in the area where an opportunity exists. I cover the North Kerry area including; Ballyheigue, Causeway, Abbeydorney, Ardfert, Tralee and Castleisland.
Who is it for
This support is open to anyone over the age of 18 years who feels they could benefit from being more involved in groups and clubs. Being connected to other people has been shown to improve mental health and help people who are dealing with feelings of isolation, stress, loneliness and depression.
Benefits
The service will give you the chance to learn a new skill or participate in a new activity, improve your mental and physical health, meet new people, receive social support from others, increase self-esteem and confidence and become involved in your community.
If you feel that you could benefit from some support in these areas, you can be referred to me through your local GP or health practitioner. You may also self-refer by giving us a call 085 1766304 or via email linkworker@ballyheiguefrc.ie
Alternatively, you can drop into the centre.
A Morning for Me:
Relax and Renew with a walking and yoga session.
This womens group will meet on Tuesday mornings at 9:30am for a 5k walk followed by a Tea/Coffee break and a 1 hour yoga session.
Please see PDF for more info: CLICK HERE.
To book a place please contact Marion on 085-1766304.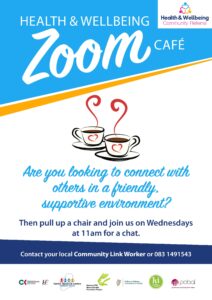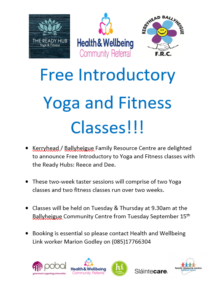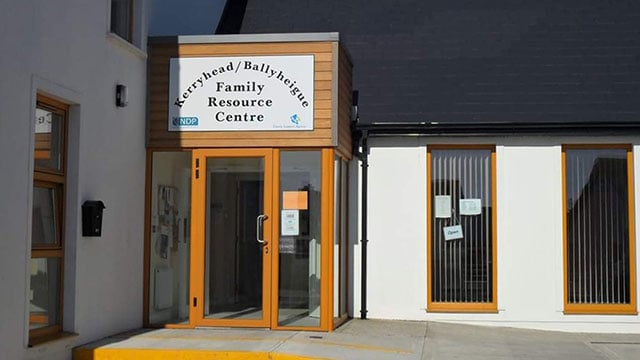 Kerryhead/Ballyheigue Family Resource Centre,
Sraid Thaidhg, Ballyheigue,
Tralee,
Co Kerry