Bringing Happiness and Contentment to Newcestown!
John Lonergan, Former Governor of Mountjoy Prison to visit Newcestown
The Wellbeing Network has teamed up with John Lonergan, Caroline Crotty and members of the local community for the next installment from their schedule of pop up events to host a 'How to be Happy and Content' workshop in Newcestown, Co. Cork this Thursday 21st November at 8pm ''
Pop along the Newcestown Parish Hall for an insightful and inspirational evening with Former Governor of Mountjoy Prison John Lonergan and Psychologist Caroline Crotty who will be on hand to educate and encourage participants to raise their level of understanding, and adopt simple actions, to improve personal wellbeing.
John Lonergan will share some practical tips and advice on keeping active, the importance of community and balancing our lives between work, home and family.  Psychologist Caroline Crotty will offer guidance around inner contentment and how we can start achieving this by starting small, with something that has benefits for both our mental and physical health.
Speaking about the event, The Wellbeing Network's Project Coordinator Kathleen Harrington said 'We have built up a reputation offering local communities, across West Cork, support by holding events and sharing knowledge so that everyone can be fully informed to help them copper-fasten their overall wellbeing. We want to empower people to take ownership of their own wellbeing.  We are working closely with professionals like John and Caroline who share the same values as our network, to give communities advice and guidance on how to look after their own Wellbeing especially as we approach Christmas and the New Year.'
Kathleen added: 'We look forward to bringing our workshop to Newcestown Parish Hall on Thursday 21st November. 
To book, please contact Sean Dineen (086-3974393), Maureen Power (087-9719768) and Noelle Buckley (086-8558302). *Ticket price €5 which will go towards the Newcestown Friendship Club 
ENDS \\
For more details, see https://thewellbeingnetwork.ie/
Look

 

Good

, Feel 

Good

 with Joan Cashman.
The Wellbeing Network, in conjunction with Irish Wheelchair Association, invites you a pop up event entitled 'Look Good, Feel Good' on Monday 11th November. The event, which will run from 11.30am at the Irish Wheelchair Association, Clogheen Industrial Estate, Clonakilty will host Joan Cashman from the Colour and Image Academy  for a FREE Autumn/ Winter style event. Reinvent and revitalise your personal image and style with an introduction to colour palettes and styles to suit all shapes and sizes. 
The theme of 'Wellbeing' is promoted by The Wellbeing Network as fun with an eclectic array of events popping up across West Cork in training centres, , resources centres, parish and community halls, clubs and hubs. Guests are invited to come along, try or learn something new and enjoy refreshments and a 'cuppa' tea, a good chat and the community spirit at the 'Look Good, Feel Good' event this Monday. 
The day has something for everyone – in the heart of West Cork, whatever your age is and whatever your particular style ideas and interests may be. 
For registration or further information, call or text Kathleen on 087-7077118, email kathleen.harrington@nln.ie
Wellbeing is on the menu in Dunmanway
The inaugural Dunmanway Wellbeing Festival, kicks off after Easter and will run from 23rd April to 26th April. The Festival entitled 'Wellbeing Week' will host an eclectic line up of predominantly FREE and open to all events across locations in Dunmanway, West Cork.
The theme of 'Wellbeing' is promoted as fun with events including pop up events, taster sessions, displays, lectures, demonstrations, seminars and workshops. Events take place right across Dunmanway in a variety of venues, indoors and out, including in Dunmanway Library, Dunmanway Family Resource Centre, Cox's Hall, Dunmanway community Garden and on the streets.
Topics presented during festival events are very wide-ranging, anything from Horticulture, parenting, children's activities and family events, business, art, history, health, sport and much more! 
Wellbeing Weeks kicks off with County Mayor Patrick Gerard Murphy on Tuesday 23rd April with a Family Fun Day in Dunmanway Community Garden. An afternoon of activities includes a visit from Patsy Gibbons and the company of Foxes, Hairy Henry Horse Therapy and will include Horticulture Demonstrations, face painting and much more…
The Festival is being presented by the Wellbeing Week Steering Group, which is representative of all numerous stakeholders involved in promoting wellbeing across Dunmanway including Dunmanway Family Resource Centre, National Learning Network, West Cork Mental Health Services and The Wellbeing Network.
Wellbeing Week has something for everyone – in the heart of West Cork, whatever your age is and whatever your particular interests may be. WellBeing Week will provide the opportunity for all participants to promote an overall awareness for the various aspects of wellbeing, including social, physical, emotional, financial, career, community and environmental wellbeing.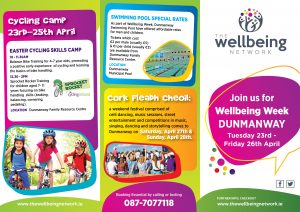 Saturday 06th – Sunday 14th April 2019
Cork's Lifelong Learning Festival is an annual event which takes place in across Cork each year in springtime. The festival promotes and celebrates learning of all kinds, across all ages, interests and abilities. The festival's motto is 'Investigate, Participate, Celebrate', and the public can do that by taking part in workshops or classes, watching demonstrations, trying out new skills, and seeing others; from the young to the old, show off what they are learning.
During the festival all events are free and accessible to everyone.
Learning is promoted as fun with events including performances, debates, taster sessions, tours, displays and demonstrations. These free events take place right across Cork in a variety of venues indoors and out; including libraries, museums, community centres, parks, sports grounds, private businesses and in Corks green spaces.
Skibbereen schedule:


01st May 2019 – West Cork Older People's Luncheon
West Cork Older People's Network will hold a luncheon dance on Wednesday 1st May in the West Cork Hotel, Skibbereen.  Cost is €18 per person which includes a 2 course meal and dancing to the Marina Band.  To book your place contact Eily-May Connolly on 086-0798385 or Sheila O'Regon on 087-3533015
Disclaimer:
To have your material uploaded to this page, please ensure you material adheres to the following guidelines:
There is no references to illegal substances and / or alcohol.
Material is not for personal, political or commercial gain.
Content has directs links to Wellbeing and / or Community. While every care has been taken in the preparation of the information, due to the nature of the website, the information may not be complete, correct or up to date. Please contact Activity providers for validation of information.
Subscribe to The Wellbeing Network
Subscribe now to get free resources from The Wellbeing Network, and stay informed about updates, events and information. By signing up, you are opting in to emails from The Wellbeing Network. We will send you useful information about our work - we promise not to bombard you with mails, we always keep your details private, and you can unsubscribe at any time.
How your mental health might be affected The spread of coronavirus is a new and challenging event. Some people might find it more worrying than others. Try to remember that medical, scientific and public health experts are working hard to contain the virus. Most...
read more
Facebook Posts
This message is only visible to admins.

Problem displaying Facebook posts.
Click to show error
Error:
An access token is required to request this resource.
Type:
OAuthException
Solution:
See here
for how to solve this error