The Wellbeing Network, West Cork in partnership with Cork GAA bring you:  Moving Goalposts
Panel will discuss the impact of COVID-19 on sporting communities and how people can be proactive about looking after the wellbeing of their communities.
'This free webinar will highlight some of the community-minded and creative ways GAA clubs and the organisation have responded to this crisis and ways that players, supporters and the many others involved in sport at grassroots level, can stay connected and positive in the midst of this pandemic where the goalposts are constantly moving.'
7 – 8pm Wednesday 9th of December.

Panellists:
Ruairí Deane, Cork Senior Team
Martina O' Brien, Cork Senior Ladies Football Goalkeeper
Kevin O' Donovan, CEO Cork GAA
Keith Ricken, Cork U20 All Ireland Winning Team Manager & CIT GAA Officer
MC: Kieran McCarthy, Sports Editor, The Southern Star
Further info:  Email wellbeingnetwork@nln.ie / Phone 087 7453933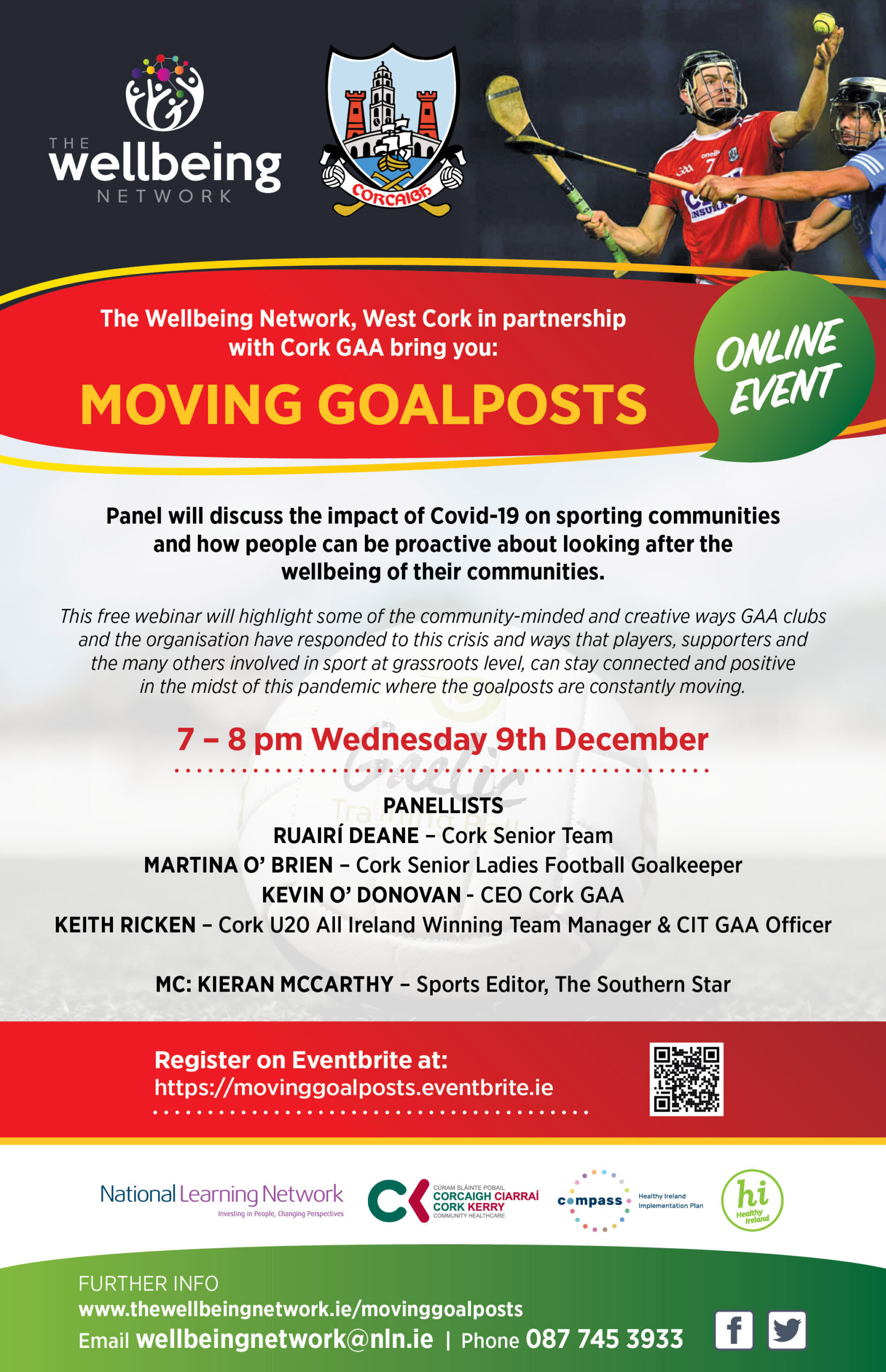 The Wellbeing Network, West Cork brings you:  Ready for School?
An online event with advice for parents to support children going back to school.
'The event will offer practical advice and guidance for parents on keeping things positive for children/young adults, amidst the concerns and uncertainty around the re-opening of schools.'
The event took place from 7 – 8pm Tuesday 25th of August.
A recording of the live event is accessible here 
Panellists:
Sarah Buckley, Principal Schull Community College
Bart Harrington, Principal Scoil na mBuachaillí Primary School, Clonakilty
Nollaig McSweeney, DBT therapist. Works with children, adolescents and their parents through periods of stress and anxiety.
MC: Sean Mahon, Managing Director, The Southern Star
 Further info:  Email ita.murphy@nln.ie / Phone 087 7453933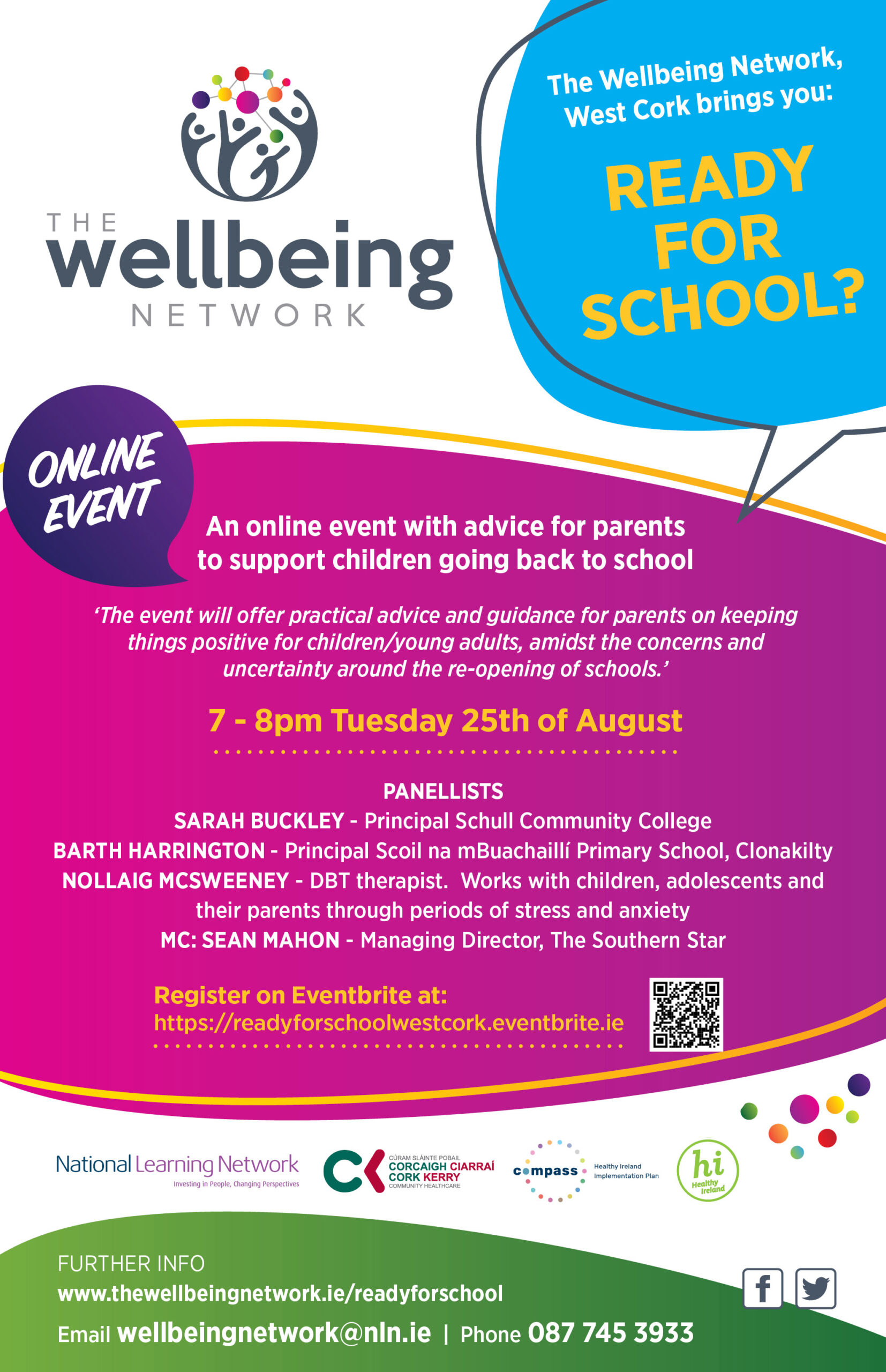 The Feel Good Festival, which has been running for a number of years, promotes and celebrates community wellbeing, while linking with many ongoing health and wellbeing resources across West Cork. The Festival is all about community, connection, engagement, slowing down, having fun and feeling good.
While it is challenging to organise anything in the current environment, the organisers (49 North Street, Skibbereen, The Wellbeing Network, West Cork and Mental Health Engagement, Cork Kerry HSE, working in partnership with community groups and organisations), felt it is more important than ever, to offer a showcase of hope and optimism. The aim of the festival is to inspire people and communities across West Cork to safely do what they can to engage in activities that connect people and communities safely and in the process contribute to wellbeing.
Events are either online, or in strict adherence with public health guidelines, with limited spaces and pre-booking required.  All events with booking details are listed below and the Festival Programme can be downloaded above.  Enquiries to ita.murphy@nln.ie 087 7453933
Please note that some events listed in the programme have been cancelled in line with most recent Public Health Advice.  These are noted below. 
Saturday 3rd October
Rosscarbery
Walk with Rosscarbery Steam Walkers
The Rosscarbery Steam Walkers will host a 2-hour feel-good walk with walkers invited to wear a funny hat for the feel-good factor. Prize for best hat! Meet at Celtic Ross Hotel car park at 2pm.
Official Festival Opening with international Film Launch of 'An Open Door'
Short film 'An Open Door' by Aoise Tutty Jackson, explores how Skibbereen's pioneering adult mental health service, 49 North Street, provides a space for hope and recovery for the local community. The film premiered at the Cork Film Festival 2018 as part of the 'Best in Cork' category.  Winner of the Community Award at the Scottish Mental Health Arts Festival 2019, among other awards.
'LockDown OpenUp' Webinar
Panel will discuss positive actions you can take to protect and improve your mental and general health in this challenging year
'The event will offer insight and practical advice on being open to new ways of connecting, staying positive and resilient and minding your own/your family's health, amidst the concerns and uncertainty around what the future holds for ourselves and the way we live.'
Panellists:
Louise O' Neill – Author : Dr. Pat Bracken – Independent consultant psychiatrist
Rory Doody – Area Lead for Mental Health Engagement, Cork Kerry HSE
MC: Alison O' Connor – Journalist and Broadcaster
This event is cancelled due to most recent Public Health Guidelines.  It will be made available online in the near future
Idir Eatarthu – Between Worlds
Audio visual installation combining music, sound, colour, light, visuals, meditation. This multi-sensory experience will allow total immersion in a calming setting, to provide a much-needed rest for the senses and total relaxation.
Very limited capacity so booking in advance is essential.
Monday 12th–Friday 16th
Online
Celebrating Technology and Mental Health
Monday – Chair based yoga : Tuesday – Movie Night : Thursday – Bingo : Friday – Music Session
Online Closed Events
This event is Cancelled due to most recent Public Health Advice 
Feel-good movie screening at the Park Cinema Clonakilty
Hosted by Clonakilty Wellness Committee with The Wellbeing Network, West Cork. Details of the film choice will be shared on the Clonakilty Wellness Week Facebook page in the lead up to the event. Contact Caroline on 087 2293550
Ongoing throughout the Festival.
Entries via email
Feel-Good Photographic Competition
Feel-Good photo competition in association with Beara Camera Club. Free entry. Open to West Cork residents. 1st 2nd and 3rd prizes. Closing date, October 10th.
Ongoing throughout the Festival in West Cork Libraries
'Out of the Blue' CD launch across the West Cork Library network for the festival and will be available to borrow from the libraries. The CD features 6 short audio documentaries that capture people's stories of mental health, distress and recovery. These are stories of hope challenge and resilience.
Libraries will also feature a display of wellbeing books and resources during the festival.
Ongoing throughout the Festival
Calm during Covid – Nikki Fitzpatrick of Myzenpod.com
A short meditation/ relaxation session to bring balance, harmony and peace to both Body and Mind during these challenging times. Available online throughout the festival. Click here to access
Dunmanway Swimming Pool closed due to most recent Public Health Advice so this is cancelled.
Reduced cost passes for Dunmanway Swimming Pool
In association with Dunmanway Family Resource Centre and Dunmanway Swimming Pool. Child Pass €1 and Adult Pass €2 can be purchased from the Family Resource Centre in Dunmanway from Monday 5th – Friday 16th.
Ongoing throughout the Festival
Songs from Bantry, Beara and Beyond
Nora Edgeworth, co–founder of Bantry Community Choir, will be collecting local songs from Bantry and around West Cork. These songs will be performed during 'Open Door' music groups at 49 North Street during the coming year. To submit suggestions, songs or recordings, please send to songsbantryandbeyond@gmail.com
'Tune In' was created as a response to the conditions of the lockdown. In the spirit of co-production, the filmmakers collaborated with 49 North Street's musical improvisation group 'The Happiness Ensemble' and Music Alive, to create a collective response to the times we are living in. 
Subscribe to The Wellbeing Network - West Cork
Subscribe now to get free resources from The Wellbeing Network, and stay informed about updates, events and information. By signing up, you are opting in to emails from The Wellbeing Network. We will send you useful information about our work - we promise not to bombard you with mails, we always keep your details private, and you can unsubscribe at any time.